How we help Greece's largest digital publisher serve 12 million unique visitors per month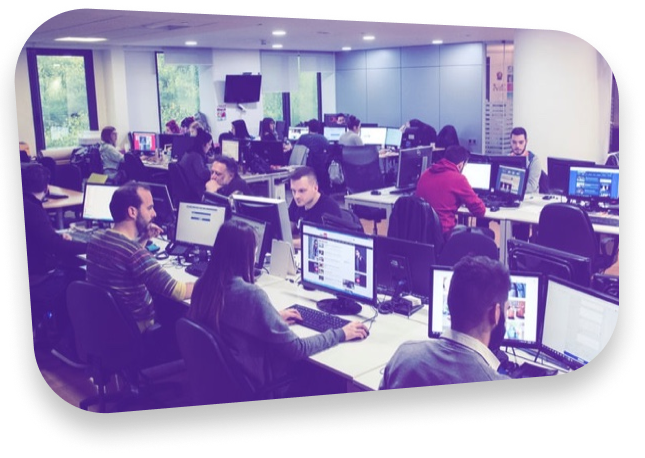 When you need to reach your readers, there is no compromise with downtime.
Miltos Efentakis - Project Director at 24media
This case will show how a total hosting solution provided by EuroVPS, helped 24Media achieve a dramatic improvement in their infrastructure's ability, stability and reliability.
Introduction
24Media is Greece's leading and fastest-growing publishing group. They manage multiple premium brands and connect with users across a variety of platforms. Their audience regularly exceeds 12 million unique browser views and spends over 6.3 million hours per month engaged with their premier content spanning over 185 thousand pages. They also have over 2.8 million social media followers which is more than a quarter of Greece's population.
The Status Quo
Initially, 24Media was running an 8-year-old version of the popular news and media Content Management System (CMS) Escenic and was being hosted by a Norwegian service provider. They also had a custom built java applications hosted in both Norway and Germany and multiple promotional websites hosted with providers across Europe. They had an in-house management system, a team to support it, and also built up an in-house server room.
We had servers all over the place, we're being charged extra for support every time there was a need for assistance. Things were getting out of control. – Miltos Efentakis, Project Directoror @ 24media
On this infrastructure, they were experiencing stability issues, both the CMS and Java Apps proved to be particularly vulnerable to surges in traffic.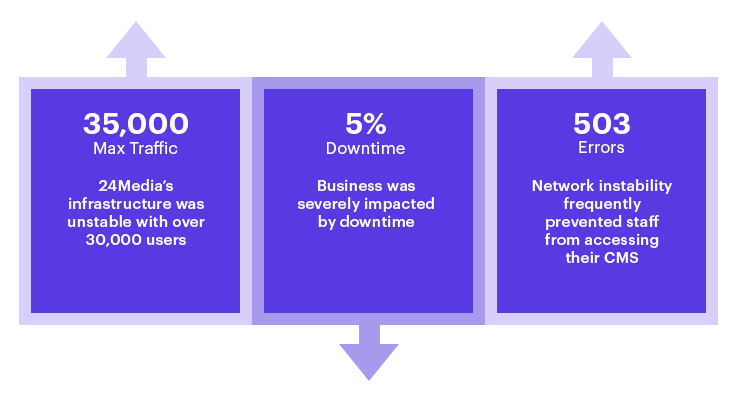 The infrastructural problems affected the delivery of content and negatively impacted their ability to publish efficiently. 24Media's staff of journalists frequently complained that the editor feature of the CMS was running too slow and frequently displayed various error messages.
24Media initially turned to their provider's technical support teams but quickly found that they were charged support fees starting from EUR 140/hour during normal hours and EUR 280/hour outside normal business hours from the moment they contacted their provider.
The problem of accounting for variable cost was huge and was made worse by the fact that they faced exchange rate risk related to fluctuations in the value of the Euro/Krone FX rate.
Beyond the financial hurdle of paying for support, the technical support they did receive was ineffective at solving the problem quickly, with support response and resolution times being similarly unpredictable.
Updates, changes made to the existing hardware, and the installation of new hardware were also subject to large up-front fees and often required extensive time and effort from 24Media's in-house team.
24Media found that these issues were compounded by the fact that they had to continually invest (both human and financial) resources to the maintenance and security of the in-house server room which was both a budget and human resources concern. They were reaching a point where fixed monthly hosting costs were approaching EUR 20,000 and they were forced to deal with and process the invoices from numerous vendors every month.
Hosting had become 24Media's second largest expense after HR and editorial costs so a plan was discussed to help them overcome this position.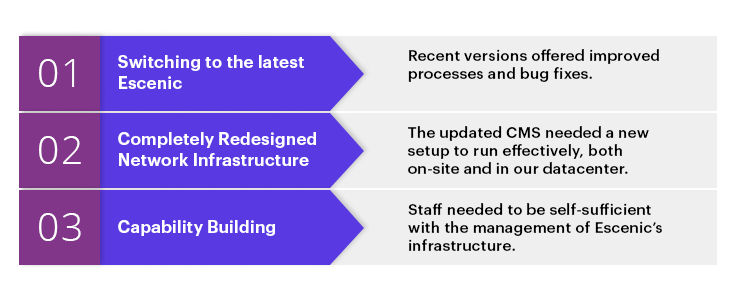 When they approached their existing service providers they were faced with a quotation requiring a EUR 6,000 up-front implementation fee and an increase of their monthly hosting bill to nearly EUR 30,000/month.
As the prospect of such a drastic increase in hosting expenses was unacceptable, especially given the track record of their existing service providers when it came to support and customer care – 24Media started looking for other options and eventually came to EuroVPS.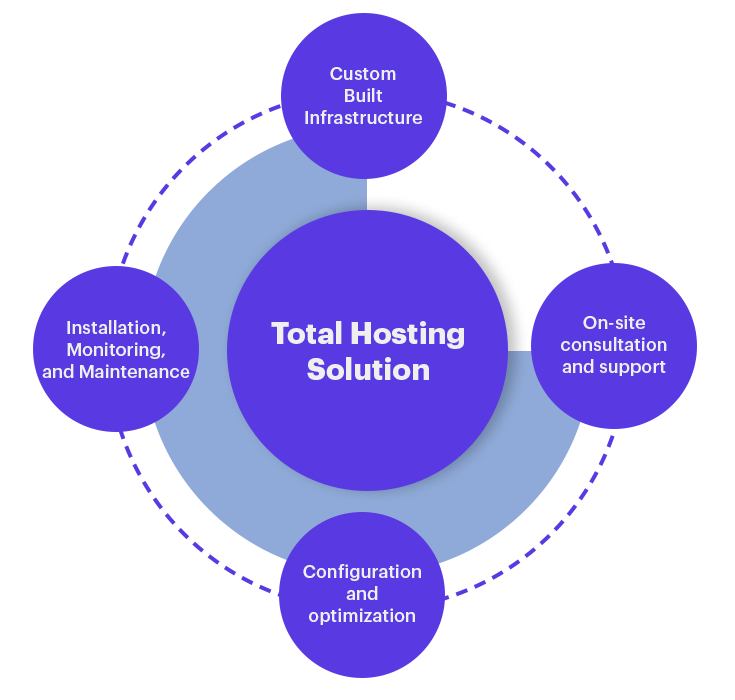 A EuroVPS Intervention
EuroVPS proposed the consolidation of all of their various third party platforms into a single hosted solution.
Necessary changes to the hardware and configuration of the in-house server room were proposed, and EuroVPS consulted and provided technical support throughout the purchase and setup of the new hardware and equipment. EuroVPS also continues to provide technical support and assistance in the maintenance of the in-house server room.
EuroVPS also provided support and recommendations for the configuration of the CMS which assisted the in-house development team in streamlining the entire editorial process.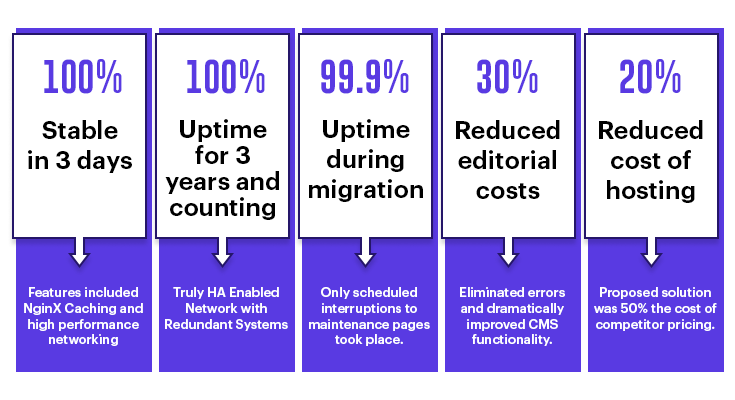 A network that used to experience stability issues whenever it received over 30K concurrent users, is now totally stable even when a single domain (Sport24.gr) regularly experiences over 70K visitors at a time.
This was all achieved while reducing 24Media's total hosting expenditure to EUR 16,000/month with no fluctuations, set-up fees, or extra support costs. A 20% reduction from the cost of their old hosting solution, and 50% of the cost of the proposed solution that was given to them by their previous providers.
Better, Not more
Many believe that the answer to an unstable or poorly performing infrastructure is more complexity, more power and more resources. Many hosts take advantage of this because the more complex and larger a solution's scale, the more they can charge you for it.
On the other side of the same coin, many clients think that they can patch together several cheaper solutions in order to avoid having to pay for a larger scale deployment by professional network architects and administrators. What's often missed here is that most of these clients end up trying to balance too many plates and are forced to spend too much of their time trying to keep these disjointed systems working together.
The EuroVPS Philosophy
At EuroVPS we believe that every problem has the right hosting solution, and restraint is key for keeping both a network stable and our client happy. The case above is evidence to the fact that a better hosting solution can be both cheaper and more effective at the same time.
We also believe that support is not something you add on, because we don't see hosting and support as two different products. A total hosting solution means money and time saved for everyone involved, but more importantly, it means that businesses like 24Media can focus their resources on what matters to them – media publishing – and leave the web-hosting to us.
Ready to completely eliminate hosting problems?
Get your first month absolutely free if you are migrating from another hosting provider.