Alright, listen up for a second because I'm here to warn you.
Never, ever rely on your web host to take backups.
I mean, you'd never trust a stranger to care for your child, right?
Well, web hosts are strangers and backups are your children. And unfortunately for your backups, you can't teach them not to talk to strangers.
By this point, you're probably thinking: "Wait a minute. These guys are web hosts and they're telling me to never trust a web host with my backup. What gives?"
Good question.
Never trust a web host with backups
Quality hosting companies (like EuroVPS) take routine backups of all of their servers. In fact, we take backups so seriously that even our backups are backed up. We back those up, too. 
We also keep dozens of historical checkpoints going back days, weeks and even months. But while we attempt to verify these backups, it's impossible to 100% guarantee that every file, database and email was saved successfully.
Most hosts are not so diligent.
In fact, a lot of them take backups using an automated system, never verifying the data integrity and often not even checking that the backups were created. Even when the automated system is working correctly, backups can get corrupted very easily.
And if the host doesn't check them, they could be storing weeks or months of corrupted backups if the error repeats itself with every export.
Some hosts do nothing at all and just don't bother with backups. And yes, this can happen even if they claim otherwise! 
Take your own backups
We're at the top of our game and we do everything we can do ensure that our customers' data is backed up and verified, but even then we recommend that our customers take their own backups too. The more backups there are, the better. 
Your data is simply too important to take chances with. We realise that, which is why we're telling you not to trust us. Don't trust anyone and assume the worst of people. If you don't take your own backups then operate on the basis that no backups exist. After all, if you're using a budget host, that's probably the case.
Can your business stand to lose its entire website? Yeah, I didn't think so.
The good news is that cPanel has a simple tool that allows you to export your own backups – and that means you have no excuse not to use it!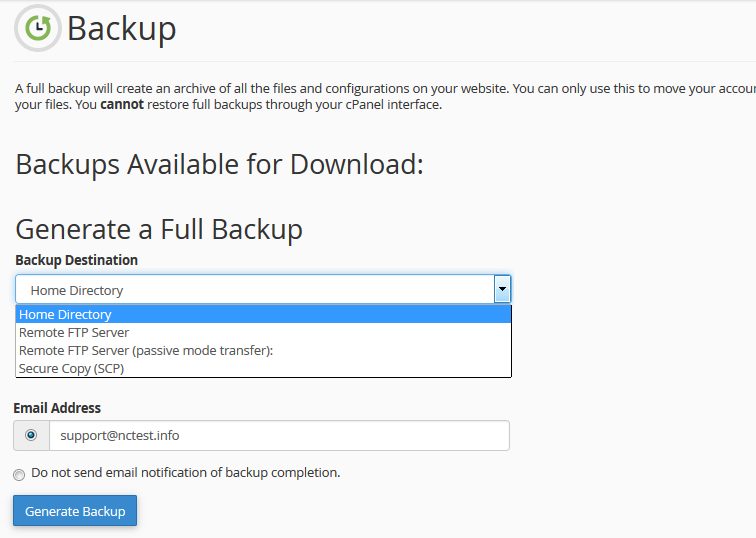 It comes as standard with most hosting packages, and even if you don't have access to that then there are other steps you can take to backup your files and your database. Ask your web host for help – and if they can't or won't help you, consider moving elsewhere.
I hope this comes in useful – and remember that it's better to be safe than sorry. In the meantime, I'm off to make a few backups of my own. The more the merrier.