An SSL certificate is an instant visual trust indicator of site security. But can such a small investment actually have a meaningful impact on your conversion rate?
Yes it can!
What is SSL?
The SSL protocol is as old as the web itself; modern SSL is actually "TLS/SSL" or "SSL/TLS". It's used to connect to sites via HTTPS. SSL creates encrypted data transmission between your computer's web browser and the server. It's commonly used by financial institutions, webmail providers, membership sites and more.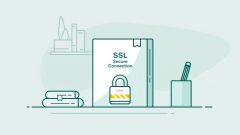 Simple Guide to Understanding SSL Certificates. In this article we explain, in an easily understandable manner, SSL protocol and SSL certificates. We'll also discuss how SSL is established, types of certificates, and how to choose an SSL vendor.
Read More
 What is a conversion rate?
The conversion rate is the  percentage of visitors to your website that complete the desired goal – be it purchasing a product, downloading an e-book, or subscribing to a newsletter.
There is an  entire industry devoted to helping companies increase their conversion rates – and they all seem to agree on one thing: increasing your conversion rate is a social science with deep roots in psychology.
And decreasing visitor anxiety will result in more conversions!
Website visitor psychology
Each year, consumers get  more skeptical about sites they perceive as insecure. Constant hacking and theft of financial data is creating a savvier society. But "savvier" isn't "savvy". Like in politics, fact and truth can be fuzzy.  Being secure and looking secure is not the same thing.
An SSL certificate is not just a visual additive for a website, but a psychological one as well. Sites with an SSL are not only more secure from a technical stance, but it makes people feel more secure when they see  green locks in a browser.
Psychology is a funny thing. In 2016, a basic SSL ranges from €0 (free from  LetsEncrypt) to about €15. And that tiny investment can make people have more faith in your website. You're seen as more trustworthy, or as an "official" business (whatever that means!). It's all about perception, not reality.
By contrast, as an example, an eCommerce site without an SSL certificate "guaranteeing" that it's safe may as well turn the server off.
People don't want to buy from your "insecure" site! A big red 'X' and broken padlock on the browser is a death sentence for many sites.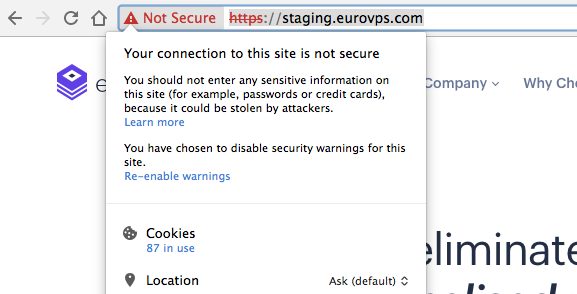 SSL and Google
Even Google is  now pushing for SSL, giving better rankings to sites with HTTPS. By not having SSL, you actually punish your site both organically (people) and inorganically (search engines). More and more, sites without SSL are being treated like medieval lepers!
Not having an SSL certificate in 2016 is actually becoming something that webmasters are embarrassed about. Nobody wants to be the "insecure guy".
Win the easy battles
An SSL certificate will not secure your website from vulnerable scripts, weak passwords, and an outdated Linux kernel. That's what a EuroVPS managed hosting plan is for.
We'll handle security updates, server software updates, performance tweaks, and give on-demand security audits. (We can even do PCI DSS compliance and custom hardware firewalls, if needed.)
SSL is different from true security.
In 2016, it's just one of those things you "have to do." It's only about €15 per site, and we'll install it for you. And that affects conversion in a positive way!
Then you can move on to more serious matters.