Suppose that two digital agencies land a new client project.
The first agency is known for their rockstar designers and developers. They divvy up the project and work independently on each part — designers create the web design and developers build the functionality. The two teams work on what they believe the client wants to see and don't meet until the deadline nears to tie everything together.
The second team is known for their quality and reliability. Each member of the team knows exactly what to do and how to communicate with others on the project. The team is confident that they can deliver the project on time and on budget because everything is run like a well-oiled machine — they've done it a million times in the past. Additionally, they leverage a cloud-based PBX solution to streamline their communication processes and ensure seamless collaboration among team members.
Which agency do you think lands the most clients? Or better yet, who would you trust to build out your project if you were in the client's shoes?
Defining Your Workflow
Most agencies start out with one or two founders that are responsible for everything from communicating with clients to developing the final product. These processes might work great early on, but they will quickly break down as the team grows.
Free Download: Sample Digital Agency Workflow
As an agency lands more clients and hires more team members, it becomes increasingly important to divide up responsibilities to keep everything running smoothly — a skilled designer or developer shouldn't be spending time writing proposals. As your agency grows you might need someone to only be in charge of preparing a custom design proposal for each client, creating webinars, someone only pitching web development projects, and so on. Defining separate roles helps ensure that each person can focus on what they do best.
It's also important to develop workflows to minimize confusion, streamline operations, and ensure that the client experience is the same every time. That way, the digital agency can take on more projects because they always know what's next and who's responsible. Miscommunications are one thing that negatively impacts customer experience and team productivity. You can use UCaaS platforms that unite all business communication channels and third-party software integrations within one unified platform to prevent miscommunications.
Workflows minimize confusion, streamline operations, and ensure a consistent client experience.
Click To Tweet
Where Do You Stand?
If you're like most agencies, you have a loose set of processes for things like on boarding, expense management and invoicing, but you don't necessarily document these processes or group them into well-defined workflows.
Why is this such a big problem?
Suppose that a client project wraps up and the final invoice is sent, but the payment never arrives. What's the next step? Who is responsible for following up with the client?
Well-defined workflows eliminate these problems by defining different processes for each possible outcome. In the case of the unpaid invoice, an invoicing workflow might involve sending an invoice after a project is completed to both parties' satisfaction and then following up 15 days, 30 days, and 60 days after the due date passes. If a payment still isn't made, the bill might be sent to collections to recoup some of the cost.
The good news is that it's easy to start creating workflows. You can start by documenting the way that you're already doing things, looking for ways to improve these processes, and then adjusting the workflow processes to implement the changes.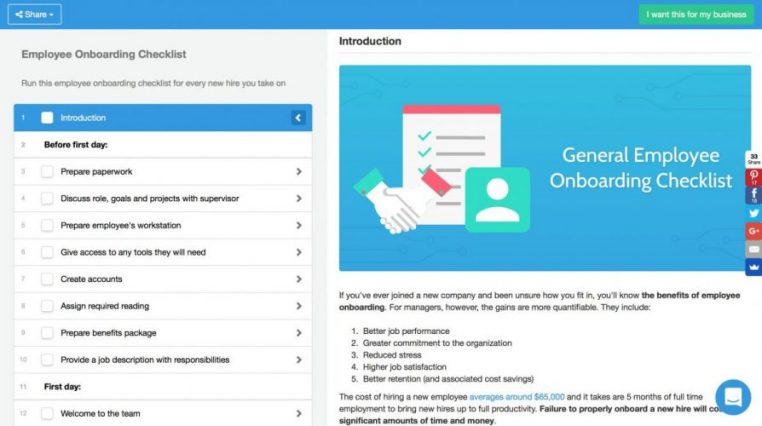 Process.st is one of the best no-code automation tools for creating and managing workflows. You can create a process template, run instances of the process as a checklist, track progress and collaborate with your team. It even integrates with thousands of other tools using Zapier. But, it doesn't have to be that complicated. You can even document processes in a Google Doc or Google Sheet that's shared with all team members.
Slite is another great free workspace tool to keep your team organized and aligned. You can create your own template or choose from their library of ready-to-use templates. You'll find everything from meeting notes, project roadmaps and product launch checklists to employee onboarding guides, performance review, and even a requirements document template for your startup.  
Automating Your Workflow
The next step after defining a workflow is finding ways to automate them. By doing so, you not only save time, but also create a more consistent client experience. You don't have to worry about forgetting to send an invoice on time or failing to forward an email to a colleague for follow-up. Everything happens automatically, like clockwork.
Let's take a look at some of the most common tools used to automate agency workflow.
Sales & Proposals
Customer relationship management can be tremendously helpful when it comes to managing inbound and outbound sales efforts without dropping the ball. It can also enable you to automate lead generation. For example, Salesforce is great for automatically recording a lead's information, sending them an email to schedule a call, and then assigning a project manager to follow-up with a proposal. If you work with Gmail, you may opt for Gmail-intergated CRM, like NetHunt CRM. Great option is to also use conversational selling to get prospects emotionally invested in your brand before heading to the proposal phase. So, you can make it an integral point in your sales pipeline.
Speaking of proposals, there are also many great tools for generating attractive and complete proposals. For example, Proposify and Bidsketch provide a drag and drop interfaces that you can use to add text, images, and video, as well as the ability to see how many times it was viewed and for how long. For prospecting and connecting with potential customers, you can also automate LinkedIn to send contact requests and messages or use a LinkedIn scraper to obtain their email addresses.
Client Onboarding
New client onboarding has to be a smooth process. After all, humans have a negativity bias that causes us to remember negative experiences better than positive experiences. If your client isn't confident throughout the onboarding process, the relationship could break down from lingering doubts. So why risk forgetting to send a follow-up email?
One way to automate consistent communication is through the use of a drip email campaign. Email finder tool such as VoilaNorbert and email marketing tools such as NotifyVisitors, ActiveCampaign, etc. make it easy to set up personalized email sequences that introduce the team, layout how the process works, and even make requests for the next steps. Daniel, in this review of ActiveCampaign, shows exactly how that works. You don't have to worry about forgetting to send an email or schedule a call.
Project Management
You're probably familiar with tools like Trello or Asana that make it easy to manage a project in stages. The problem with simple tools is that they don't have any automation built-in, but complex tools can be too difficult or expensive for smaller agencies. The best tools use a combination of simplicity and automation.
Rindle is a good middle ground with the flexibility and ease-of-use of Trello and automation features that auto-assign tasks and trigger actions in other apps. For example, when a task is completed, it can be automatically assigned to the next team member as well as notify them via email or Slack. You don't have to worry about forgetting to update a Trello board again.
Invoicing & Payments
Most agencies have processes in place to send out invoices to clients, but clients that are late paying invoices can take up a lot of time and resources. You may send mass emails, make awkward phone calls, and send paper statements to try and encourage clients to pay late invoices on time. These efforts may be successful eventually, but they take a lot of time.
Many invoicing solutions have automatic invoice reminders that can be setup to automate some of these processes. There are also services like DebtorDaddy that will reach out and even make phone calls on your behalf. If there is still a nonpayment, the service will even escalate to professional debt collection with a single click.
Client Support
Customer support is often one of the most frustrating parts of running an agency. For example, a client might need help learning how to log in to their website, resetting their password, or accomplishing other basic tasks — even if you've already trained them on the tasks during the final stages of the project and provided them with documentation to reference.
Knowledgebase software like Zendesk is great for building a self-service tool for clients. If clients email or call with a problem, you can refer them to knowledgebase articles that they can reference in the future. The service's Answer Bot is also a great way to provide personalized support without taking up an engineer's time or needing to hire support teams. NLP-powered softwares could also be explored if you want to push customer support automation to the next level.
If your company is struggling with customer service, then you should consider implementing a call center automation to help automate some of the tedious tasks associated with customer service. For example, invest in a proper online client portal to manage all client communication in one place.
Web Hosting
You should be focused on building and delivering client projects, but often times, you end up spending a lot of time on infrastructure and maintenance. In addition to developers wasting valuable time on server administration, you could have higher levels of downtime that can quickly cause client anger and frustration.
EuroVPS solves these problems for digital agencies by managing all of their hosting needs. You don't have to worry about server issues or downtime and can focus on building products. We have staff members available 24/7/365 to troubleshoot any problems that arise, and have an industry-leading 99.999% uptime SLA.
IT Operations
IT Operations is a process of managing the IT infrastructure and assets of the enterprises and large organizations. The increase in IT assets has led to an explosion of data which needs to be managed correctly since it's beyond any single humans capability to figure out anything is going wrong. AIOps and Robotic Data Automation helps in managing the ITOps better and streamline the processes efficiently.
Robotic Data Automation goes a step further and helps enterprises realize value from data faster by simplifying and automating repetitive data integration, preparation and transformation activities using Low-Code workflows and data bots, including built-in and custom artificial intelligence bots.
Free Download: Sample Digital Agency Workflow
The Bottom Line
Digital agencies should define workflows early on and constantly look for ways to automate them. Workflows can be hidden in many places. If you find yourself turning to a spreadsheet to organise dynamic data, that's a workflow. From client onboarding to automated task assignment to affiliate management (with the use of affiliate tracking software), there are workflows everywhere and they all can be automated.. By doing so, you will be able to take on more clients with fewer resources and ensure that each client has the same experience. There are many tools that can help with the automation process, including EuroVPS for managed hosting.